Join the exciting world of float flying. Since 1956, TNA has been dedicated to providing quality and safety in their flight training programs. TNA offers high standards of training whether you wish to obtain a Recreational Pilot Permit or a Private Pilot License.
Students achieve a land and sea rating while training with us. Come and learn with us, a steady, safe, company since 1956. Winter flying can be just as fun when you train on our C172 ski planes! You can enjoy the free spirit feeling when flying off a groomed ice strip.
Bush Flying
Learn to fly on Floats from real Bush Pilots! Our Float Endorsement program
is designed to convert the licensed pilot from a land-plane to a float-plane.
The rating consists of taxiing, sailing, docking, take-off, and landing. All of these through rough and glassy water and crosswinds. Float ratings require 7 hours, which consist of 7 hours dual including 5 solo take-off and landings.
Come join our unique approach to flight training where you can get a seaplane and a land plane (ski plane) endorsement, all as part of your license. There are no extra costs to receive the ratings as they are built directly into your flight training. Therefore, you save time and money, leaving you with the opportunity to commence working in our fast growing industry.
All training is carried out on floats in the summer and skis in the winter. This gives our students an advantage over others who require expensive 50 hour course to achieve the industry standard for employment in a float operation. Our fleet consists of five aircraft which include 2-C172 for flight training, a C-185 and 2 DHC-2 Beavers for charters. All aircraft are serviced by highly qualified engineers.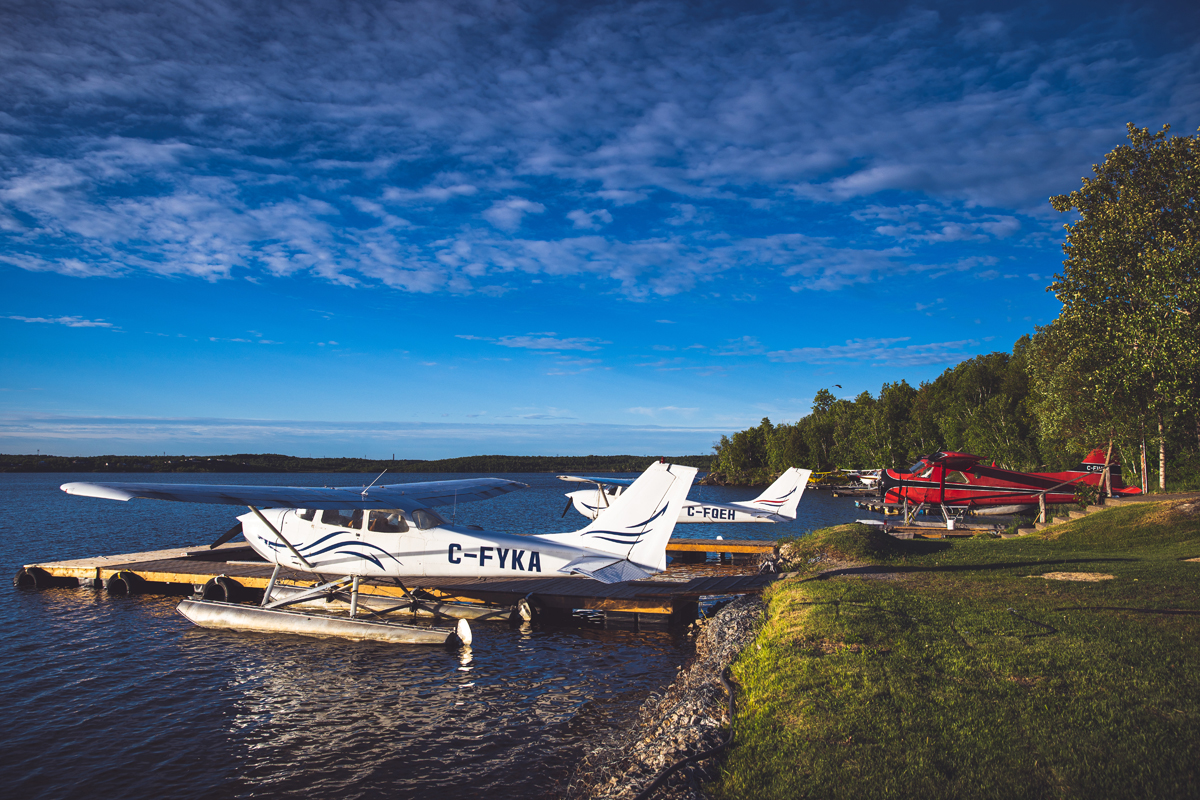 Our Base
---
Our Base is situated northwest of Sudbury, Ontario on Whitewater Lake, and out of town students can stay in a nearby motel. Our uncontrolled aerodrome relieves the students of the added pressure of a control zone. However, the Sudbury Airport has a control zone often visited by our students to help them understand procedures and radio communication. Our students consist of all sorts of interesting people. There are no major restrictions or criteria. A minimum age is set forth by Transport Canada and certain medical requirements do apply.
Float Training
---
The seaplane endorsement is the perfect way to wet your toes and discover the pleasure of float flying. We will introduce you to the basics of floatplane operation, including aircraft handling in flight, on the water and at the dock.
All of our flight training is conducted in a C172 ski planes. Basic seaplane endorsements are always taken on by our senior flight crew, so you can be assured that you will have all the bases covered when you are signed off by the Chief Pilot.
The basic seaplane endorsement is a minimum of 7 hours flight time, including 5 take-offs and landings as sole occupant. Depending on the individual pilot, your seaplane rating can be completed in 2 or 3 days.
Our Rates
---
| | |
| --- | --- |
| Flight Training | $300 per hour |
| Flight Training (own plane) | $175 per hour |
| Current Fuel Price | Call for price |
Contact Us
The Experience
Reviews
Take a look to see what our customers have to say about us, and discover what makes True North Aviation an amazing place!
Leave a review →